c'était au Trabendo, décembre 2021…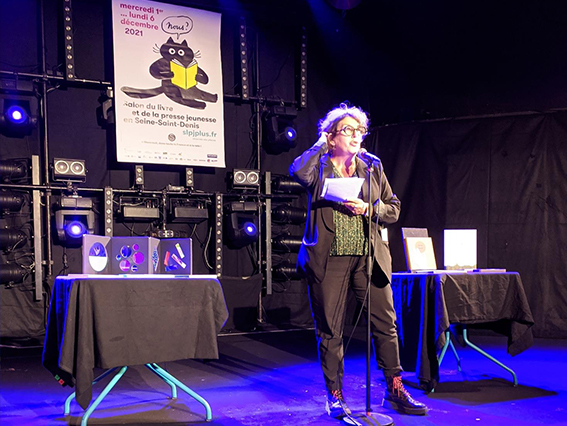 What a ride it's been, to be nominated Great Bear for 2021 edition of the Montreuil Bookfair ! SO grateful, and happy and overwhelmed !! Thanks again to the Montreuil bookfair team again for their amazing work in supporting children's litterature, to Ramona Badescu (the creator of Pomelo!) not only for initiating this prize but also for being so active in promoting creativity and audacity in children's books. Last and not least, a big warm thank you to my publisher Brigitte Morel at Grandes Personnes , for this nearly 10 years long collaboration. On the pics, Ramona, Brigitte and myself, and Sylvie Vassalo (head of the Montreuil bookfair).
Quelle aventure cette Grande Ourse ! Toute ma reconnaissance à l'équipe du SLPJ pour le magnifique travail qu'elles accomplissent tout au long de l'année, à Ramona Badescu qui est non seulement l'initiatrice de ce prix mais aussi une actrice engagé dans le paysage du livre jeunesse. Un grand merci à bien sûr à Brigitte Morel, pour ce fructueux compagnonnage de bientôt 10 ans ! Sur les images, Ramona, Brigitte et moi-même, et la directrice du SLPJ Sylvie Vassalo.