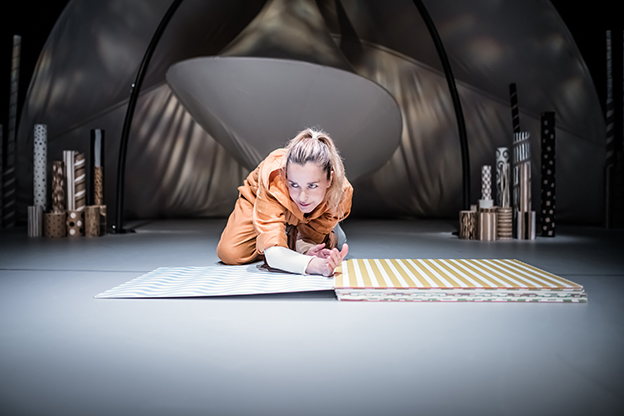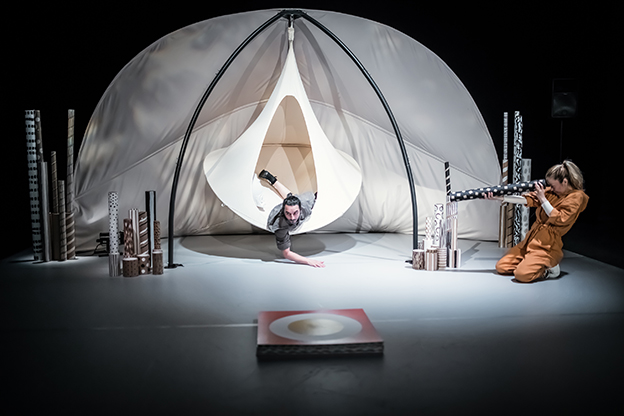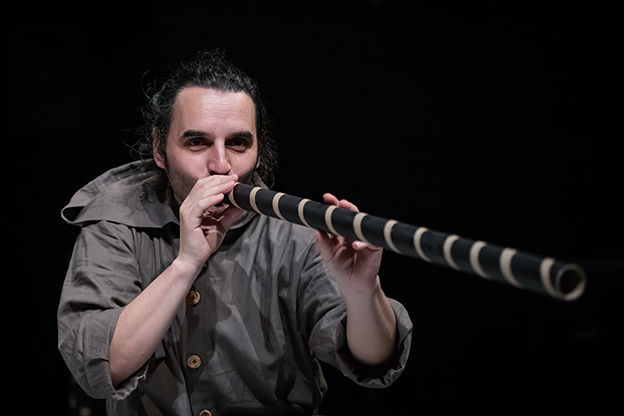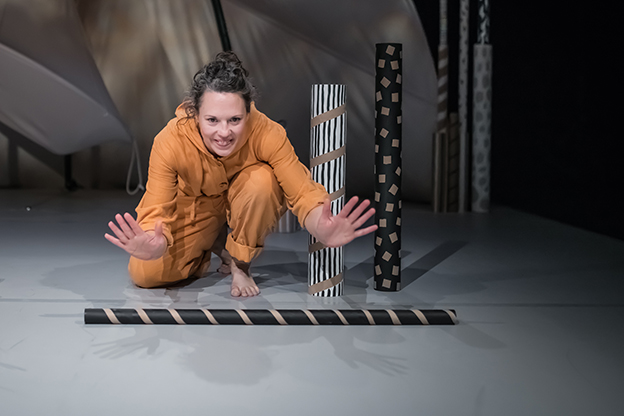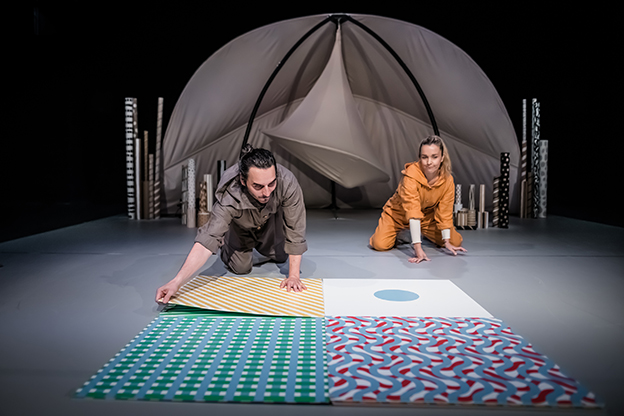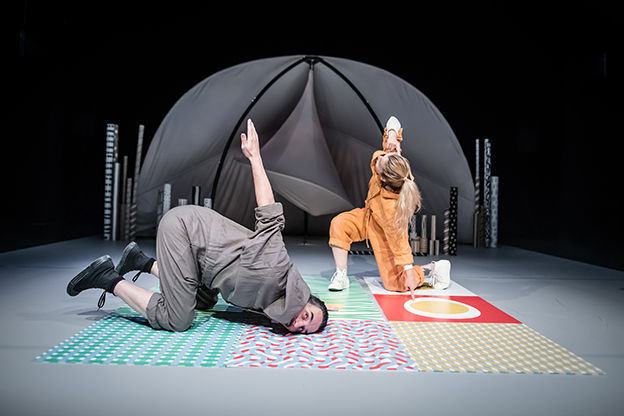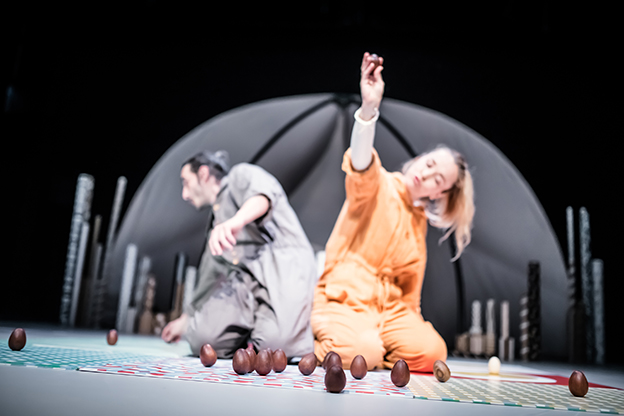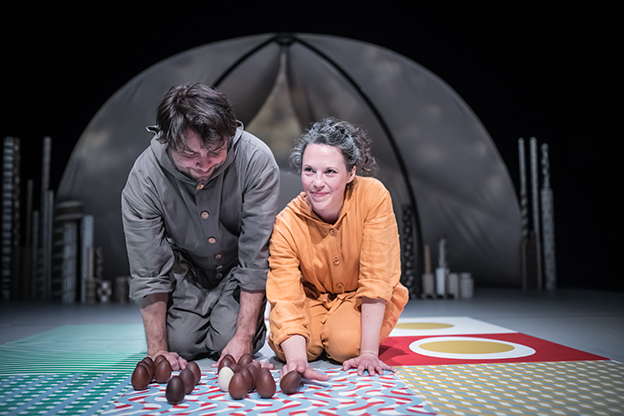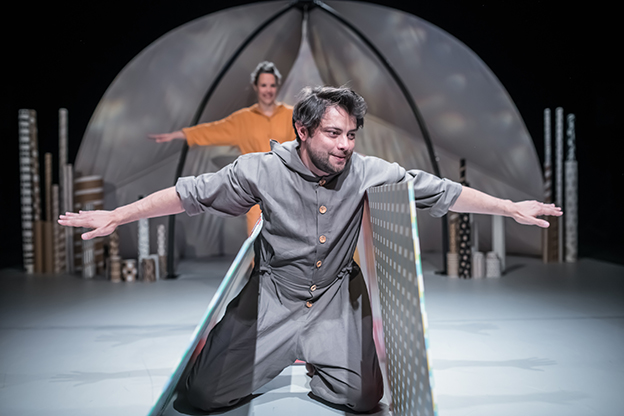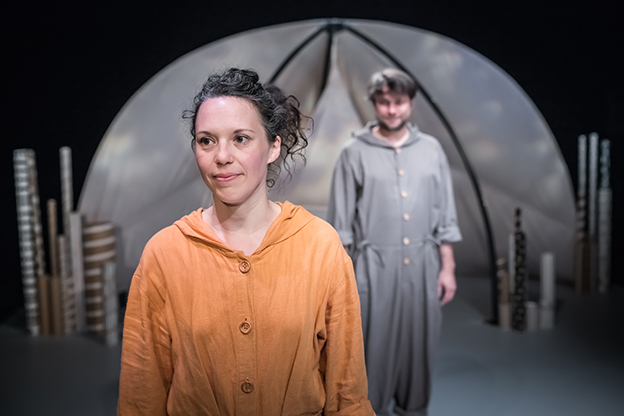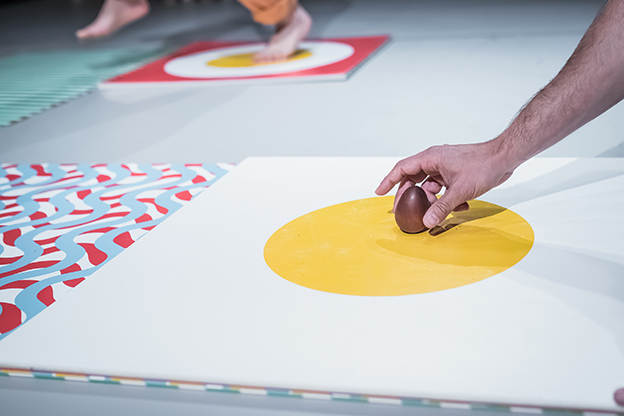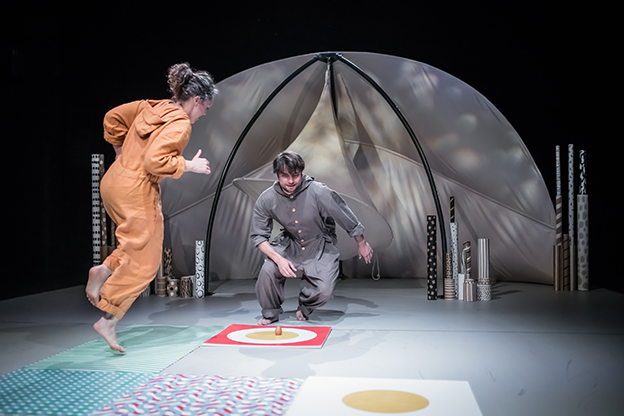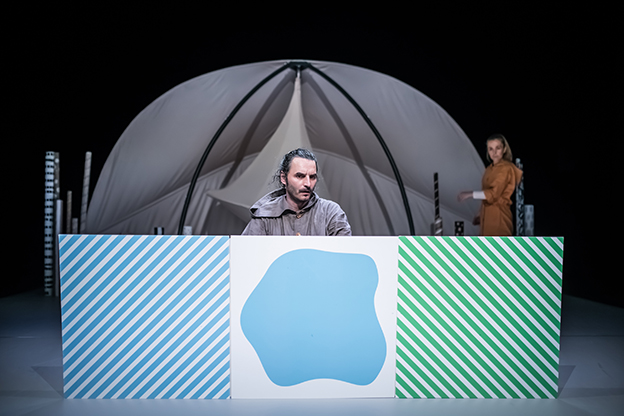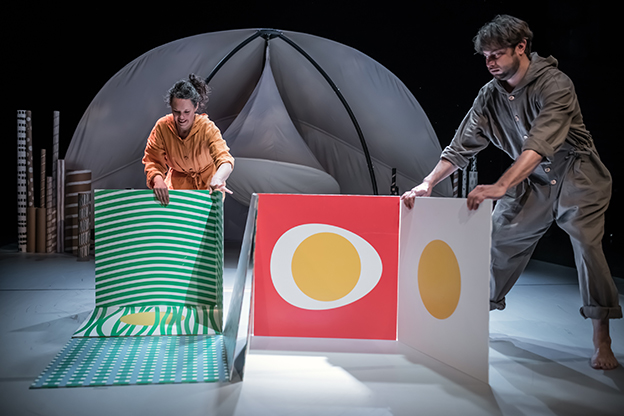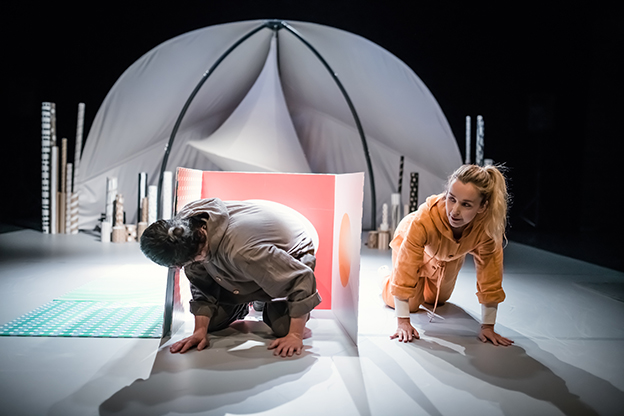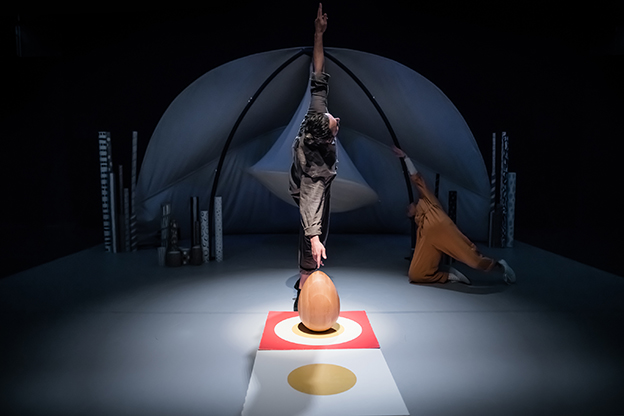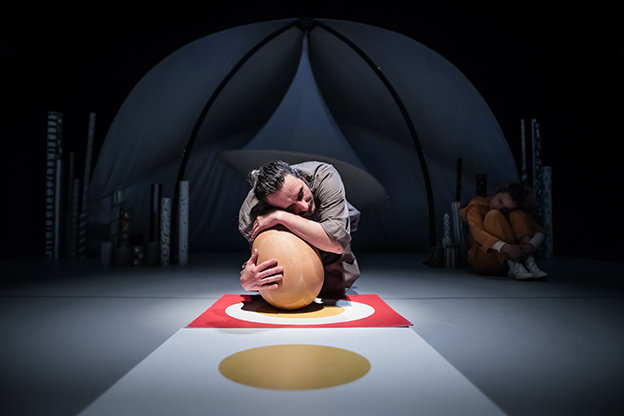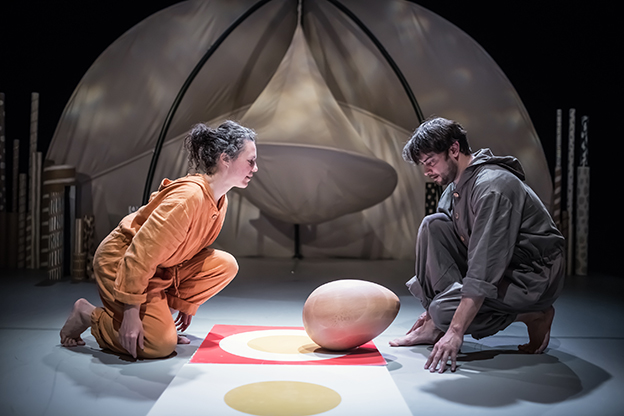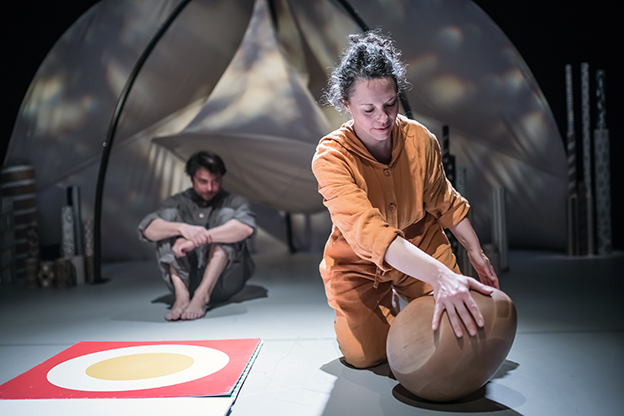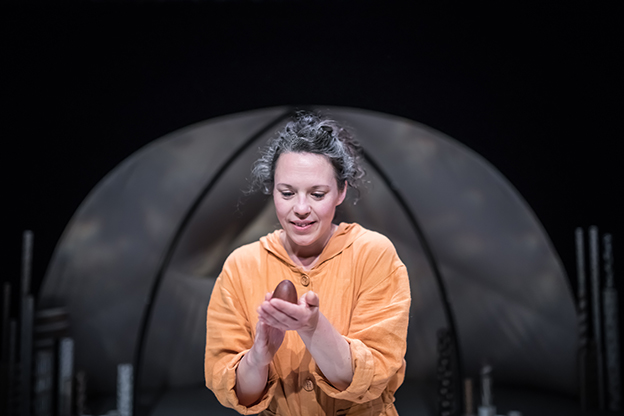 Spectacle pour les enfants à partir de 18 mois.

A show for the very little ones, from 18 month on

Co-produced by :  Ma-Théâ collective (Centre de Création pour l'Enfance), World Puppet Theater Festival of Charleville-Mézières, The Ljubljana Puppet Theatre .
Staging : Mateja Bizjak-Petit
Scenography : Lucie Félix
Music : Damien Félix
Writer : Pierre Soletti
Choreographer : Barbara Kanc
Sound design : Max Lance
On stage in France : Max Lance and Caroline Chaudré
On stage in Slovenia : Maja Kunšič and Gašper Malnar
Many thanks to Brigitte Bougeard for her advices as a nursery practitioner. An artist residency at berceau d'Arthur nursery, in Charleville-Mézières, gave us a great opportunity to test our ideas, to make essential observations helping us understand how the children interact with our material, and benefit from enriching discussions with experienced nursery practitioners.
How to bring the world to the little ones, how to create adapted conditions for concentration, creativity, learning, and the discovery of their emotions ? These questions are always in my mind, whatever the field of creation might be : books, workshops for children, or theater.
This show is thus the result of a long experimental work, alongside children, actors and musicians. The material and the substance of the show come directly from the workshops I designed and facilitated during my residency in the area of Grand Paris Seine et Oise, and from my book Coucou. Mateja's very consistent staging takes us on a dreamy and playful wandering through gladness, excitement, love and contemplation.
Prior to the performance, a concise and playful exhibition introduces the aesthetics and the main elements of the show to the children. But not too much, just a few clues, to pique their curiosity…
At the end of the performance, the stage opens to the audience, and the children are welcome to play and manipulate our tubes and cute eggs !
Booking : Centre de création pour l'enfance
Co-produit par :  Collectif Ma-Théâ (Centre de Création pour l'Enfance), Festival Mondial de Marionnettes de Charleville-Mézières, Théâtre de Marionettes de Ljubjana.
Mise en scène : Mateja Bizjak-Petit
Scénographie : Lucie Félix
Musique : Damien Félix
Texte : Pierre Soletti
Chorégraphe : Barbara Kanc
Design Sonore : Max Lance
Sur scène en France : Max Lance et Caroline Chaudré
Sur scène en Slovénie : Maja Kunšič et Gašper Malnar
Regard d'éducatrice de jeunes enfants : Brigitte Bougeard
Une résidence à la crèche le berceau d'Arthur, à Charleville-Mézières, nous a donné une superbe occasion de mettre à l'épreuve nos idées, d'observer les enfants jouer librement avec nos propositions, et d'échanger avec les éducatrices de jeunes enfants et profiter de leur point de vue très enrichissant.
Comment amener les choses aux tout-petits, comment créer des conditions adaptées pour favoriser l'attention, la découverte, l'émotion? Voici les questions qui sous-tendent mes recherches, que ce soit dans mon travail de création de livre, d'exposition, d'atelier ou ici pour la première fois, d'un spectacle. Ces interrogations constituent pour moi un champ très libre de créativité.
Ce spectacle est donc le résultat d'un long travail d'expérimentation, avec les enfants en résidence et en répétition avec les comédiens et musiciens. La matière du spectacle provient de mes ateliers avec les enfants de crèches qui ont eu lieu dans le territoire du Grand Paris Seine et Oise, et de mon livre Coucou. La mise en scène, très cohérente, est un travail de dentelle qui nous fait divaguer de jeux en jeux, dans la réjouissance, l'excitation, l'émotion, le rire, la contemplation…
Une exposition par laquelle passe le public avant de rentrer dans la salle, introduit le spectacle aux tout-petits, leur présente l'esthétique et les éléments majeurs qu'il vont découvrir, sans en dire trop, comme des indices.
A la fin de la représentation, la scène s'ouvre au public, les enfants sont invités à venir jouer, manipuler nos tubes et nos jolis œufs…
Diffusion : Centre de création pour l'enfance